The license plate search game: look for license plates from every state. Included is a free printable check-off list with all 50 states that you can use to play the license plate search game on car trips or road trips.
⇒ Continue reading License plate search…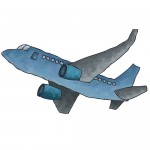 Taking a flight this holiday season? You can use this free printable airport scavenger hunt to have some fun spying for things in the airport, whether you're traveling alone or with friends or family.
⇒ Continue reading Airport scavenger hunt…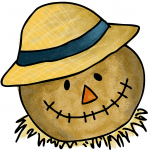 Halloween costume bingo! Perfect if you're at a Halloween party or stuck at home handing out candy. Just look for people around you in costume and try to cross off 5 in a row.
⇒ Continue reading I Spy Bingo: Halloween version…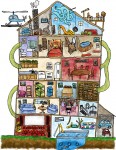 This is more of an activity than a game. You just draw your dream house, usually as fun and complex as you can imagine. We're talking home theaters, indoor swimming pools, pet manatees…just draw the dream home you always wanted! A great activity for kids and for encouraging imagination.
⇒ Continue reading Draw your dream house…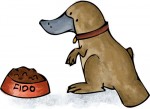 This party game is easy, silly, and good for big groups. Players write questions that start with "what if" and answer them, with a twist. It almost always involves lots of laughter.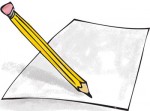 This is a great party game for teens or adults. Kind of like a cross between pictionary and telephone, players write sentences, convert each other's sentences into pictures, and back and forth until the results are hilarious.
⇒ Continue reading Paper telephone…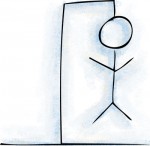 Hangman is a classic word-guessing game played on paper or a chalkboard. Here's instructions to play and a free hangman game printout.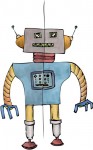 This is a fun drawing activity (not really with a winner or loser). Fun for little kids and good to keep them quiet, too.
⇒ Continue reading Mirror drawing…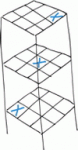 Like tic-tac-toe, but with three layers, thus decreasing the likelihood the game will end in a tie and increasing the thought involved and the fun.
⇒ Continue reading 3-D triple-decker tic-tac-toe…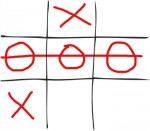 Yep, tic-tac-toe, the simple, classic paper game for two players.
⇒ Continue reading Tic-tac-toe…