Introducing the word generator!
Now I'd like to introduce a new feature of my blog that I'm really excited about: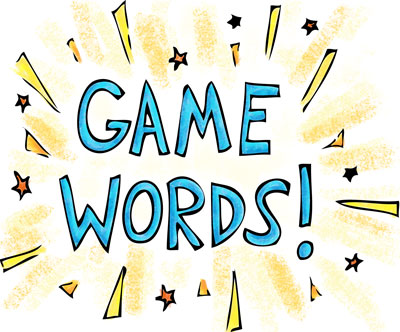 That's right, a word generator for games! I think that people have found the word lists in the Pictionary post helpful, so I thought it would be neat to make longer word lists. And now with the help of a very tech-savy husband, the Game Gal has a generator that will give you these words to play games like pictionary, catchphrase, or charades. Just choose which game you're playing and a category word list, click "New Word," and voila! The word generator will give you one word at a time to act out, draw, or guess. Head on over and check it out!
You can use the word generator on a computer, laptop, iPad, or iPod as you play games like pictionary, catchphrase, or charades. Give it a try! And I'd love to hear how it goes—let me know in a comment what works for you and what doesn't.
Happy playing!
4 Comments
Q replied:


Love the idea. I would like to use this on my ipad for a Pictionary game. it looks like I have to have internet access to play the game. It would be nice if I could download the app then play later where internet access is not available.

May 2nd, 2012 at 4:59 pm. Permalink.

The Game Gal replied:


Q, I agree, there most definitely should be an app. In fact, there may or may not be one in production right now… Keep your eyes peeled!

May 2nd, 2012 at 8:32 pm. Permalink.

Family picnic - Aylee Bits replied:


[...] I bought the Mala easel from Ikea together with the Mala drawing paper roll.  We used The Game Gal's word generator to generate words to draw and we used our phones as timer.  It was a lot of [...]

June 23rd, 2012 at 7:43 am. Permalink.
Leave a Reply