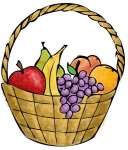 Fruit basket is a simple indoor game for big groups, easy enough for young kids, and also entertaining for older kids and adults. Players switch chairs, trying not to be the one left without a chair.
⇒ Continue reading Fruit basket…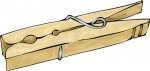 A game for birthday parties, baby showers, or sleepovers where guests steal each other's clothespins by catching each other saying forbidden words. It's a good game to kind of play throughout the duration of an event, just in the background.