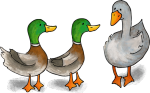 A perfect, easy little kid game that's popular with the little ones…but that doesn't mean it's not enjoyed by bigger "kids" too.
⇒ Continue reading Duck, duck, goose…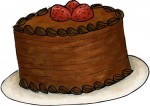 A great game to randomly select one player to win a prize (like a cake!). But your prize can be anything; it's a great game to match to holidays.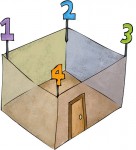 Four corners is one of those classroom games that's perfect to play at school. (Shout out to all you teachers; you're amazing!) It's fun, it's quiet, it's simple. Perfect, right? But don't feel like you only have to play it at school! It can be a great game to play at home, too. And I challenge you to find a hexagon-shaped room and play SIX corners!
⇒ Continue reading Four corners…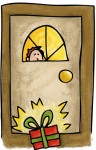 A Christmas tradition where you choose a family and secretly drop off a gift at their house for the 12 days before Christmas. It's a lot of fun for families and a good way to bring the spirit of giving and into your family and Christmas season. Free printable gift tags included.
⇒ Continue reading 12 Days of Christmas gift drop off…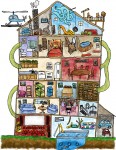 This is more of an activity than a game. You just draw your dream house, usually as fun and complex as you can imagine. We're talking home theaters, indoor swimming pools, pet manatees…just draw the dream home you always wanted! A great activity for kids and for encouraging imagination.
⇒ Continue reading Draw your dream house…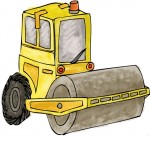 A little-kid game, best when played with a big brother, sister, or adult. One of those simple wrestling games you love so much as a kid.
⇒ Continue reading Steamroller…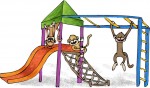 Monkey on the ground is a great game to play at recess. It's kind of like Marco Polo, but on a playground instead of in a pool. I used to play it almost every day at recess in fourth grade. Ahh, good times.
⇒ Continue reading Monkey on the ground…

Next to tag, hide and seek is probably one of the most basic kid games out there. It can be played indoors or outdoors and is easily adaptable for lots of ages and playing areas.
⇒ Continue reading Hide and seek…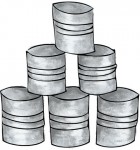 Kick the can is a way fun outdoor game; it's like a cross between tag and hide and seek, with a twist. It's perfect to play in a neighborhood or in the front and back yards of a house.
⇒ Continue reading Kick the can…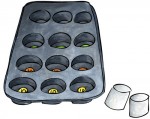 A game invented by my very own mother for our family nights when I was growing up. It's a simple tossing game (kind of like a bean bag toss) you can set up with things you have around the house (marshmallows, muffin tins, you know).
⇒ Continue reading Marshmallow toss…