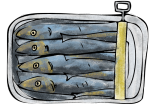 Instructions on how to play sardines, a reverse form of hide and seek where one player hides and it's up to the rest of the players to quietly find them.
⇒ Continue reading Sardines (or backwards hide and seek)…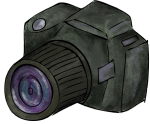 Photo scavenger hunts: Get a list of things to take pictures of and go out and shoot some photos! Included in this post are four different lists for different occasions (at the mall, at home, at the park, and one for anywhere).
⇒ Continue reading Photo scavenger hunt…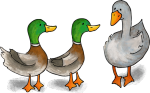 A perfect, easy little kid game that's popular with the little ones…but that doesn't mean it's not enjoyed by bigger "kids" too.
⇒ Continue reading Duck, duck, goose…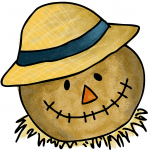 Halloween costume bingo! Perfect if you're at a Halloween party or stuck at home handing out candy. Just look for people around you in costume and try to cross off 5 in a row.
⇒ Continue reading I Spy Bingo: Halloween version…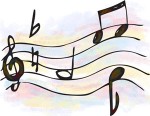 A couple of variations of song guessing games, where players take turns thinking of songs or words in songs and getting other players to guess, either by saying the song or singing it one note at a time. Very flexible activities that can be a lot of fun.
⇒ Continue reading Sing a song…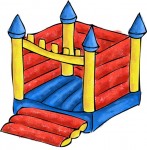 A group game to play indoors that basically involves wrestling on the ground. So if you like high competition and physical contact, this could be the game for you!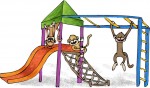 Monkey on the ground is a great game to play at recess. It's kind of like Marco Polo, but on a playground instead of in a pool. I used to play it almost every day at recess in fourth grade. Ahh, good times.
⇒ Continue reading Monkey on the ground…

Next to tag, hide and seek is probably one of the most basic kid games out there. It can be played indoors or outdoors and is easily adaptable for lots of ages and playing areas.
⇒ Continue reading Hide and seek…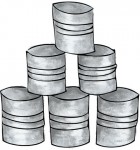 Kick the can is a way fun outdoor game; it's like a cross between tag and hide and seek, with a twist. It's perfect to play in a neighborhood or in the front and back yards of a house.
⇒ Continue reading Kick the can…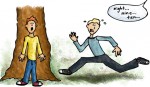 This is a night game kind of like hide and seek or kick the can, with its own fun twist. Good if you like sprinting, hiding, adrenaline rushes, or feeling like a spy.
⇒ Continue reading Hit the dirt…