Next to tag, hide and seek is probably one of the most basic kid games out there. It can be played indoors or outdoors and is easily adaptable for lots of ages and playing areas.
⇒ Continue reading Hide and seek…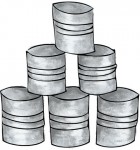 Kick the can is a way fun outdoor game; it's like a cross between tag and hide and seek, with a twist. It's perfect to play in a neighborhood or in the front and back yards of a house.